Directions & Wheelchair Access
We are located at 4101 Caughlin Square, Suite 1
in Reno. Enter your address below to get specific driving directions from your location.
Wheelchair access is also provided.

Office Hours: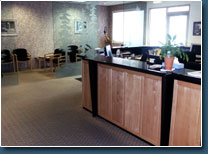 Our normal schedule for appointments is:
| | |
| --- | --- |
| Tuesday | 7:00am to 5:00pm |
| Wednesday | 7:00am to 5:00pm |
| Thursday | 7:00am to 5:00pm |
| Friday | 7:00am to 5:00pm |
One of our main goals is to stay on schedule at all times. Please help us by being on time for your appointments. Please give us as much advance notice as possible to schedule your appointment.
If you would like to register for an appointment, feel free to call our office at (775) 826-4000.
Emergency Care:
If there is an urgent problem, and you are currently a patient of record, please call our office at (775) 826-4000 and we will accommodate you as soon as possible. If the office is closed, you will be given specific instructions on how to obtain emergency advice or care.

Cancellations:
Your appointment time is reserved especially for you. If you cannot keep your appointment, please give us at least 24 hours advance notice.
Patient Education
We believe very strongly that you should be completely informed concerning your condition and all treatment options. We will spend a great deal of time explaining your situation and the treatment needed so that you will understand what is coming next, every step of the way.
Financial Policies:
Our goal is to provide periodontal treatment in a warm and caring environment. We understand financial pressures and strive to make treatment affordable by keeping our fees reasonable. We can also provide a variety of financial options.
Dental Insurance:
We accept most major private insurance plans and will assist you in determining what portion of your treatment is covered by insurance. Please bring your insurance card or papers on the first visit.
We also accept assignment of your benefits, which means at the time of your visit, you will be asked to pay only the portion insurance is not expected to cover. We will then file your insurance for you.
Please understand however that you are ultimately responsible for payment of all services. Should your insurance not cover what is predicted, then you will be responsible to pay any uncovered portion.
Payment Options:
We have a variety of options to ensure payment of any portion not covered by insurance is affordable. We offer discounts for advanced payment and accept most major credit cards (Mastercard and Visa). In-house financing is also available. We will be glad to discuss these options with you upon your arrival.
Financial Questions:
Our insurance coordinator will be happy to answer any of your financial questions. She can be reached by calling our office at (775) 826-4000.
Our Staff
We are very fortunate to have long-term staff members who are devoted to ensuring that you have a good experience while you are with us. Each staff member has the training, skills and sensitivity necessary to provide excellent clinical care. Please feel free to express any questions or concerns you may have.
Patient Safety:
We take patient safety very seriously and adhere to the highest professional standards of cleanliness, sterilization, and radiation control. Our staff regularly attends safety seminars and is quite knowledgeable on the latest techniques.
Pre-medication:
Patients with certain medical conditions (e.g. valvular heart conditions and artificial joints) may be asked to pre-medicate with antibiotics prior to treatment. We do this with your safety in mind. Please inform us if you have a condition that might need pre-medication.
Post Treatment Instructions:
After treatment, home care and medication instructions will be thoroughly explained. For your convenience, you will also be given printed instructions. Of course, we are always available for questions after treatment.
Patient Comfort:
We go to extraordinary lengths to ensure our patients are as comfortable as possible during dental procedures. Please see the Procedures Page for more information on this.
To aid in setting our patients at ease, we always discuss the procedure thoroughly, drawing pictures to ensure comfort and understanding.


Contact Us:
If you have any questions or would like to set up an appointment, please call us at (775) 826-4000.